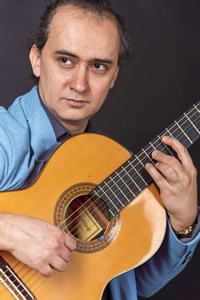 Eugen Sedko, flamenco guitar performer and multi-instrumentalist, composer, arranger, director of ensemble flamenco/fusion programmes.
Born in 1983 in Kiev, Ukraine, where I studied and live permanently.
Started to play guitar from 1997, from that time dates my musical self-education. In 1999 started learning traditional flamenco.
Founded the flamenco group «Ayamonte» in 2004, being the performer, composer and arranger. In 2005 toured Russia in duet with V.Stetsenko.
Was awarded by a trip to Mallorca, Spain in 2005 as a prizewinner of the spanish guitar competition «Spanish themes» organized by Embassy of Spain in Ukraine.
In 2008 founded Flamenco Fusion Band from Kiev and continue work with it.
Released a solo CD album
The Art of Flamenco Guitar
in 2010.
Member of Ukrainian ethno jazz project Marinita Trio in 2012 and since 2018.
Since 2010 was invited to be a jury-member of international guitar competitions in St.-Petersburg, Russia and «Kubok Pyateryh» in Kazan, Tatarstan.
I take part in ethno/fusion projects:
Piano Flamenco Band
,
Flamenco Fusion Duo
(with Dmitry Kushnirov),
Marinita Trio
,
Shevket Zmorka Quartet
,
Bingo Band
.
I provide
private guitar lessons in Kyiv
and online.
Languages: English, Spanish, Ukrainian, russian, Persian.